83 Toyota Corolla [KE70]
ENGINE
4A-GE 20V Blacktop - 1600cc, dohc
MS3x ECU controlling fuel and quad coils.
Quad EGT's.
Gilmer pulleys.
HT18 T3/4 Turbo.
Oil Cooler.
550cc 3S-GTE Injectors.
Extractors & 2.25" Under diff Exhaust.
AE86 Fuel Tank with DW pump.
DRIVETRAIN
AJPS calliper mount kit - FC3S Front Calipers with EG6 rotors.
Convert Motorsports Custom Flywheel.
Tilton Twin Plate Clutch.
Nite Parts CNC J160 Bellhousing Kit.
J160 Altezza 6 speed gearbox.
Toyota Hilux Diff.
Strange Motorsport S14 Calipers & cables.
Two Piece big uni Driveshaft by Drive Inn.
4.3:1 shimmed up LSD.
SUSPENSION
K-Sport front Coilovers.
T3 roll center adjusters.
BC Gold rear coilovers.
Reinforced tension rod brackets.
Hardrace front tension rods.
Super Pro bush lower arms.
Super Pro bush 4 links.
Cusco AE86 swaybars front & rear.
Cusco lateral rod.
WHEELS
Front: 15" x 7JJ +0 Kyusha copies + 195/45 Toyo's.
Rear: 15" x 7JJ +0 Kyusha copies + 195/45 Grid 3's
OTHER
Cream paint.
Racepro bucket seats.
Professional Alarm.
PERFORMANCE
Weight: Unknown.
Drag (turbo): 14.5@94s on 7psi - 2.3s 60ft (slippery)
Drag (NA): 15.5s@85?mph.
Dyno Runs (turbo): 229rwkw@x PSI.
Previous Car(s):
83 Toyota Levin (AE86) - 4AGE Conversion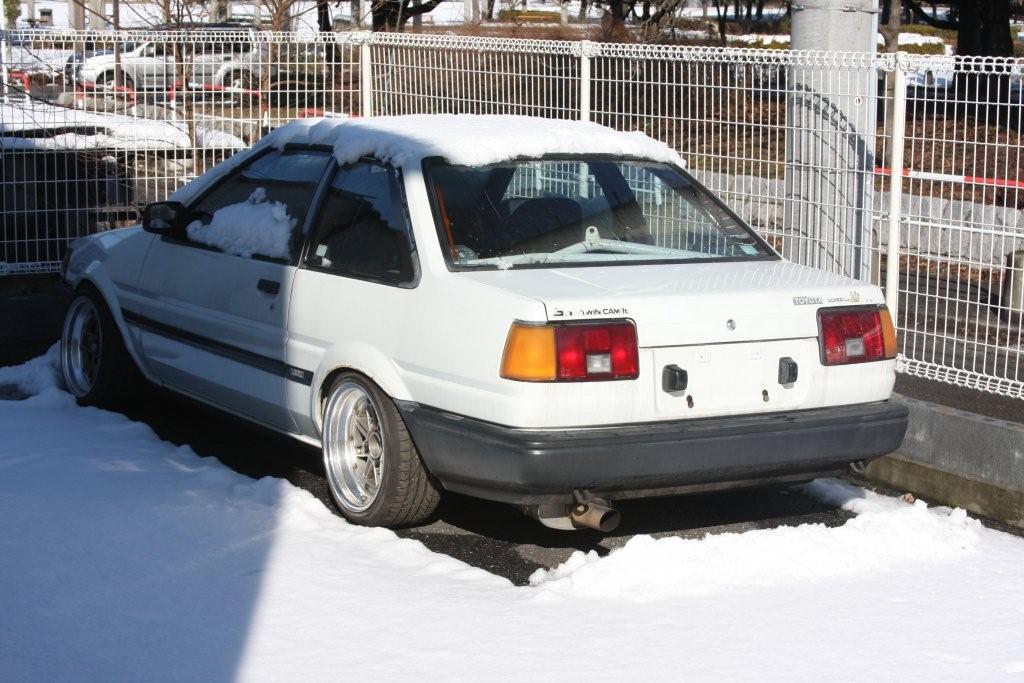 91 Mazda RX7 (FC3S) - 433ps Panspeed tune




85 Toyota Corolla SE (AE70) - 4AGE Conversion




85 Toyota Carina (AA60) - 4AGE Conversion




79 Toyota Corolla SR (KE35) - 2T-GEU Conversion